The aim of the Judo Management workshops is  to benefit from the analogies between the the values and principles of  judo and the modern management.
Putting values into action
Respect and leadership go hand in hand.
Leadership is not a top management reserved or exclusive responsibility. The  Judo approach, "the gentle way",  suggests that leadership does not depend only on power and strength, it depends on intelligence, skills and our ability to adapt.
The use of force
When they push you pull.
The best strategy is to adapt flexibly and intelligently to the manoeuvres of the opponent, in order to use the force that is behind them, and thus subdue or neutralize the opponent's attack. 
Adaptation and flexibility in order to tackle challenges that arise
Judo, an innovative response
Judo as a metaphor to describe business strategy and the ways that some companies compete against others that were very well established in the internet era.
Turning difficulties into opportunities
The gentle way, is a win win approach
What a negotiation is, other than seeking to unbalance the opponent in order to launch our range of offers and counteroffers?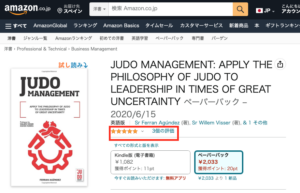 Very good feedback from Japanese readers. 5 Stars book. Arigatō 日本の柔道マネジメントの読者からの非常に良いフィードバック。 とても感謝しています
More
Contact
e-mail:
ferran.agundez@judomanagement.com

Cell:
+34 606 361 555